Jeep Cherokee SRT8 beast packs a wallop
Most powerful production Jeep yet is pure fun on or off road
There's no doubt that it's the season of the compact SUV. Little "off roaders", sometimes no more capable of hitting the bush than setting sail to Australia, are taking over the sales stats -- and with good reason. They're small, parkable, often pretty frugal and suit urban dwellers down to a tee.
It seems like there's not much room for gigantic, angry and obnoxious 4x4s anymore. But Jeep doesn't believe that -- and neither do the enthusiastic buyers queuing up to get into one of these.
The Jeep Grand Cherokee SRT8 is, to all intents and purposes, a bit of a dinosaur in some fundamental areas. That is, there's a 6.4-litre V8 lurking under that massive, aggressively vented bonnet. And it sounds like it should.
The bellowing beast packs a punch that doesn't really need to be there. It's a huge machine, requires immense force to get moving -- most would think torque-happy diesels over a petrol-sucking eight.
It is, unashamedly unnecessary -- but it's a hell of a lot of fun to drive, and is staggeringly fast.
It does have Chrysler's fuel-saving cylinder shutoff system, but the noise that beautiful Hemi makes means it's incredibly difficult to resist the urge to bury the boot. As the most powerful production Jeep to hit the road/bush/wherever it wants, the SRT8's 344kW, 624Nm wallop sends it to 100km/h in just 4.9 seconds. Top speed is over 250km/h. Then, once the laws of physics have been twisted like a pretzel, its huge Brembo brakes will pull it up from the legal limit in 35 metres.
It is pure tough muscle -- huge and imposing, while looking like it'd happily chew up those little SUVs. It does have a tendency to attract nasty looks from people in hybrids, too.
To be fair, during our week with this giant among bush-bashers, the economy gauge was showing much to be joyous about -- it averaged over 20L/100km. And it sounded good doing it.
Expecting a machine like this to handle well would have been a tall order just a few years ago, but the men in white coats have been doing some serious tinkering.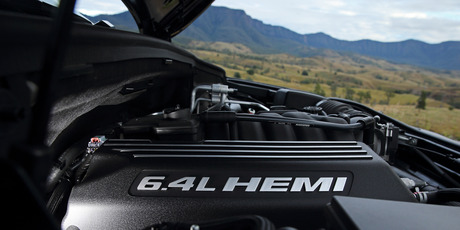 An electronic limited slip differential mostly eliminates slip, and new SRT-tuned adaptive dampers combine with the new Selec-Trac system. This combines stability control, transmission shifts (when not in manual mode) and traction control to make the whole package feel like something much smaller when you're out on the open road. Big 20-inch forged aluminium wheels tend to do little for ride quality, but the Pirelli 295/45/20 run flat tyres, despite being quite noisy on our heavy chip country roads, don't give a jarring ride.
Of course, this comfort is helped no end by the stuff that makes the Grand Cherokee grand. It's leather-bound luxury with a full complement of bells and whistles -- everything you'd expect from a machine that's going to set you back almost $110,000.
The base model two-wheel drive Laredo model is just $64,990.
For the extra lolly there's a lot to cover. The interior is all about sporty looks and simple, effective functionality -- Nappa leather and suede race-style electric seat with embroidered SRT logos, shiny pedals, and carbon-fibre accents give it a purposeful feel. It's purpose is essentially to make the driver feel good and yes, perhaps a little bit smug as hippies burst into tears when it rumbles past with its 300g CO2/km-plus emissions.
The dash and steering wheel are intimidating to begin with. All of the switchgear on the dash looks as though it belongs -- well-made, solid switches and big screens with excellent clarity all certainly help make the Grand Cherokee SRT8 feel very well built. That big display is vital as it shows the reversing camera, which joins safety features that include cross-path detection and the high-level of parking sensor required by a machine that, without these little tricks, would be like parallel parking the Ark Royal in the dark with sunglasses on.
Harman Kardon supplied the audio system and with 19 speakers, including subwoofers, there's no shortage of power and volume.
The heated steering wheel with stylish flat bottom houses controls for the whiz-bang infotainment system, with a clear and readable screen between the gauges giving you all kinds of vital and interesting information. If you want to know how fast you can run a quarter mile, the SRT selection screen within the system will time you. If you want to get better, you can just use launch control. That's right, the most unnecessary function for a large off-road machine is at your fingertips.
It's a bit of fun, too, although it pays to remember just how fast this thing goes when you've been booting it for nearly half a kilometre.