Land Rover Defender old v new
1948 Series 1 v 1991 Defender 90 v 2016 Defender 90 Heritage Edition
The story of Land Rover is a tale for the ages.
The brand launched way back in 1948 in the shadows of World War Two, and it's clear that the inspiration was the army-spec Willys jeep.
History tells us that the Land Rover – as the original model was known – was only supposed to be built for a few years until parent company Rover had enough cash flow to sort out its luxury car offerings.
But the popularity of the Land Rover was unprecedented, and here we are, nearly 70 years down the track, and it will soon be time to say goodbye to the hard-core off-road icon that the Land Rover – and its subsequent incarnations – has become.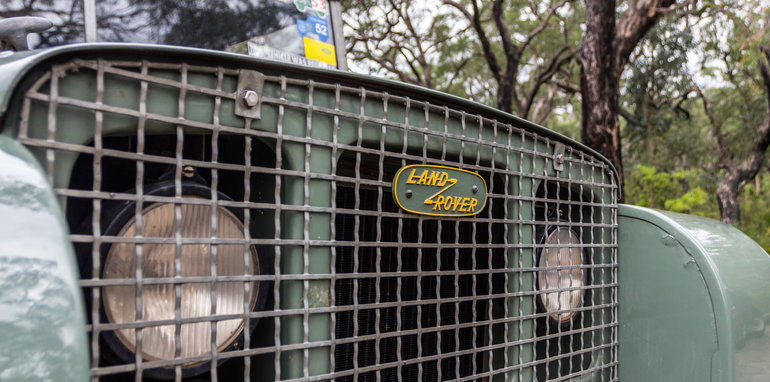 So, what better way to pay tribute to Land Rover, and the Defender, with a look at a couple of old cars – one of the first Land Rovers ever built and one of the first Defenders ever built – and the new celebratory special edition Defender 90 Heritage Edition.
1948 Land Rover Series I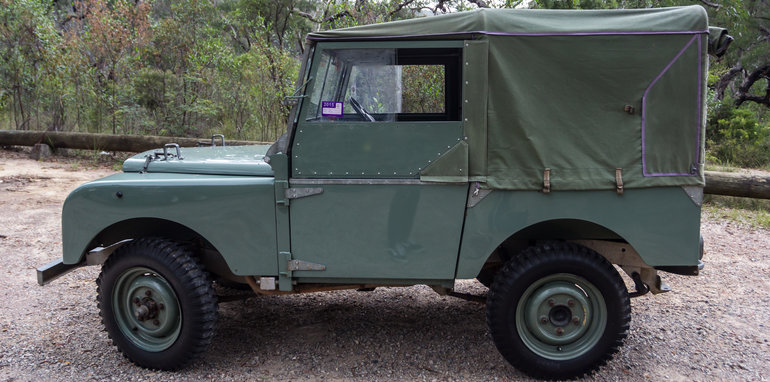 The friendly lads at the Land Rover Owners' Club of Australia helped us corral a couple of vintage beasts for this test, and the eldest of the two is Chris's 1948 Land Rover Series I.
This is a car that encapsulates the history of the company. It is the 138th production model ever built by the brand, and the first ever to be registered in Australia.
And it's in brilliant condition for its age, especially considering that Chris has literally taken it to the back of Bourke on trips with the Club. And, yes, they took every back way imaginable.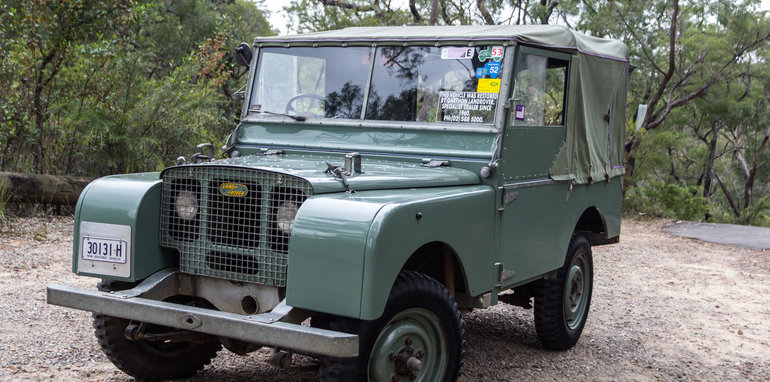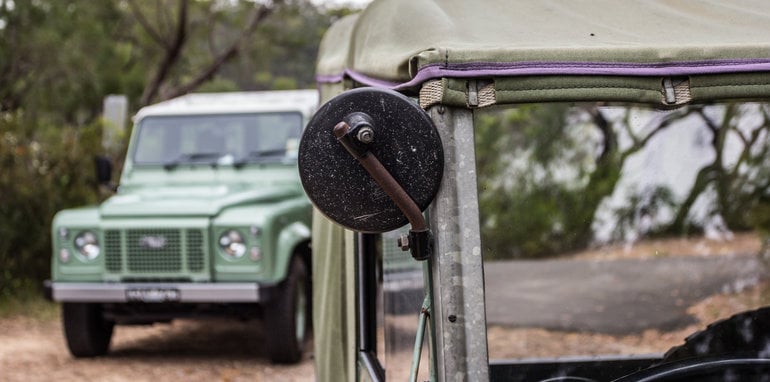 The Land Rover was designed first and foremost as an agricultural vehicle, and it is believed that this particular example spent most of its life on a farm out near Young. It was restored in the early 1990s, before being taken ownership of by Chris in 2003.
As capable as it is – Land Rover has built its name on the back of this all-terrain vehicle – it wasn't my intention to put a priceless piece of Australian automotive history through any (further) unnecessary duress.
In fact, coming in contact with this vehicle made me thankful for a lot of things, and not just the chance to drive it.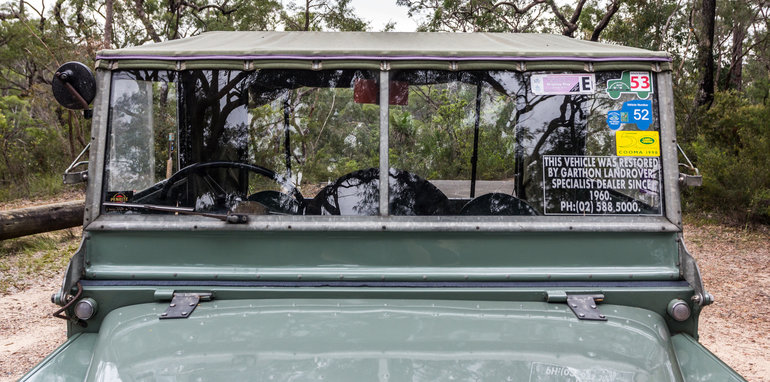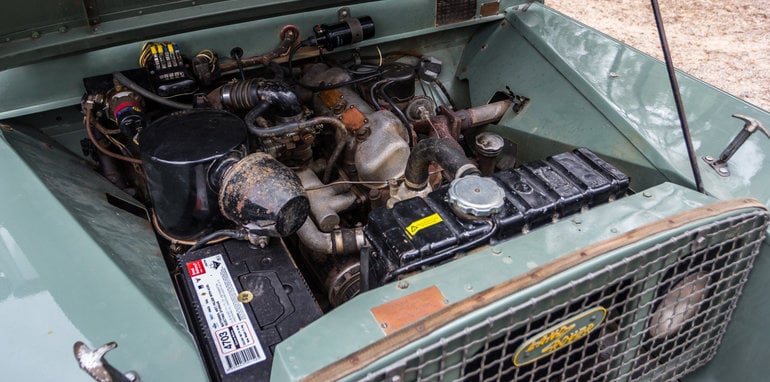 I'm now thankful for door handles on the outsides of the doors (on the Series I you have to reach through the canvas to open the door from the inside). I'm now thankful for metal panels, which insulate the cabin and make you feel safe (having a canvas tarp over the back of a thin metal skeleton is hardly the last word in vehicle safety). And I'm thankful for power steering (not just for the effort, but also the control) and doors that don't swing freely open (park on a slant and you could damage the front guard).
I was also surprised by a few things.
Instead of simply turning a key, for example, you turn the key and then push a button to fire the engine in to life. Yep, push-button start was around in the late 1940s! Moreover, the seats in the Series I – which weren't the original chairs, but a set of modified ones for better comfort – offered a great driving position. The side mirror attached to the top of the doorframe offer very little help, though.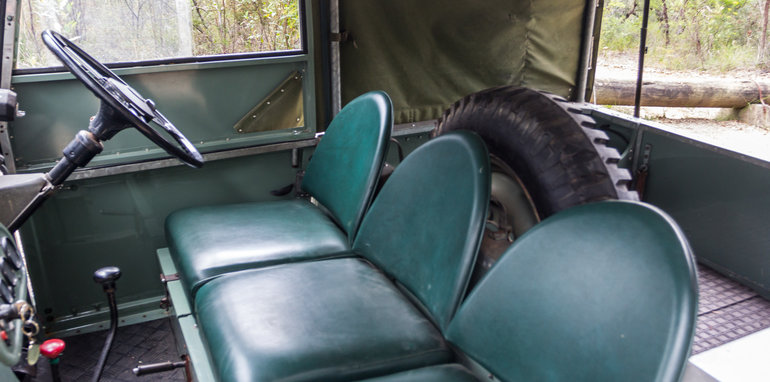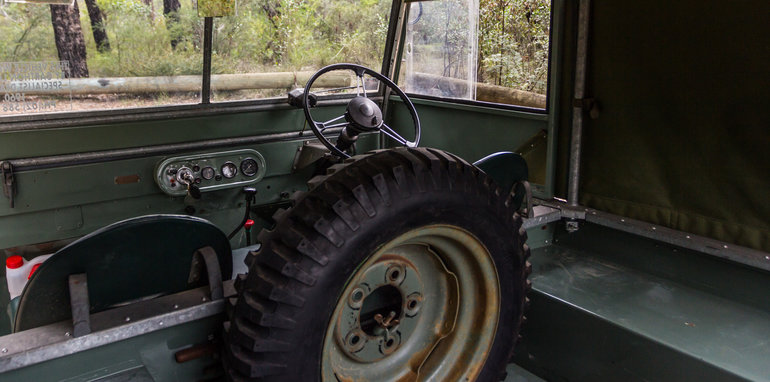 When it came to actually driving the Landie, it took a bit of learning. There's no syncromesh in first gear, which made for some tentative attempted double-declutching to avoid crunching the gears.
It became clear during my brief drive of this little nugget that it needed plenty of revs to keep up momentum from the 1.6-litre four-cylinder petrol engine. With about 40kW and 108Nm, it isn't a powerhouse by any stretch of the imagination. As Chris put it "there's not enough grunt to pull the skin off a rice custard".
By modern day standards, the steering is abominable. There's huge play to the steering, so keeping it straight is an exercise in itself, and when you try to turn around you realise that a three-point turn must not have been invented yet back when the Land Rover debuted.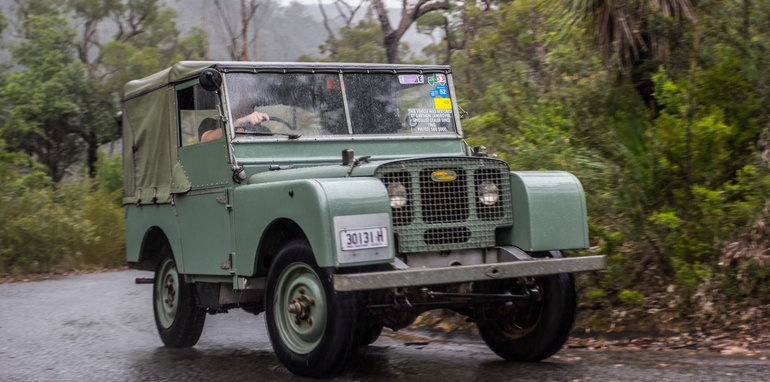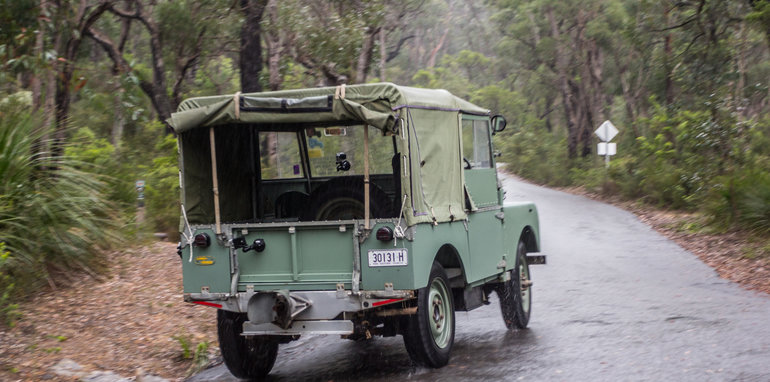 The four-wheel drum brakes also offer little in the way of stopping power, though thankfully the weight of the Series I isn't too great to pull up rapidly. But the tyres – bar treads, similar to what you see on tractors – aren't designed to go around corners at speed, never mind if the surface is slippery.
It was an involving experience, though. You feel like you're in control of the car, that your every move could be a mistake. You have to be on your game to drive an old Land Rover, and it's amazing to think that Chris has done such long distances in it. By today's standards, it's exhausting work.
1991 Land Rover Defender 90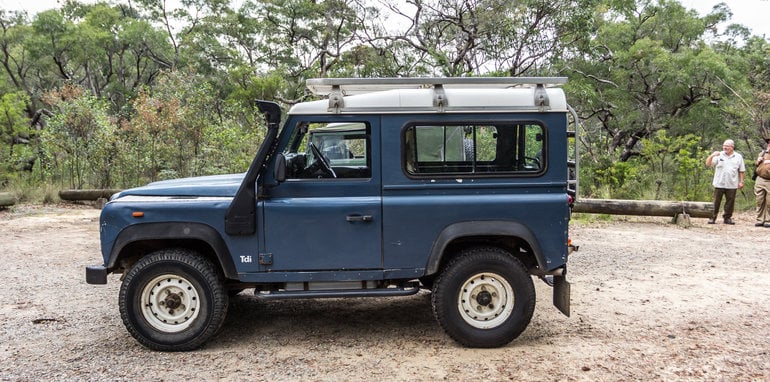 Pulling up beside the Land Rover Defender 90, you realise just how much larger the most basic model became over the years.
Of course, there were different body styles of the original Land Rover, including a long-wheelbase model, a Station Wagon, and a pick-up style utility vehicle. But without delving into the detail of every model that came and went over the period from 1948 to 1983, it's fair to say that the Series I, Series II, Series II (a) and Series III lines were many and varied.
And then came a couple of new guys: the 90 and 110.
These two familiar numbers are still used today, but prefixed by the name Defender, which entered the Land Rover library in late 1990 following the introduction of the Discovery nameplate (it was deemed necessary to have an equally tough name to market the smaller, more rugged model).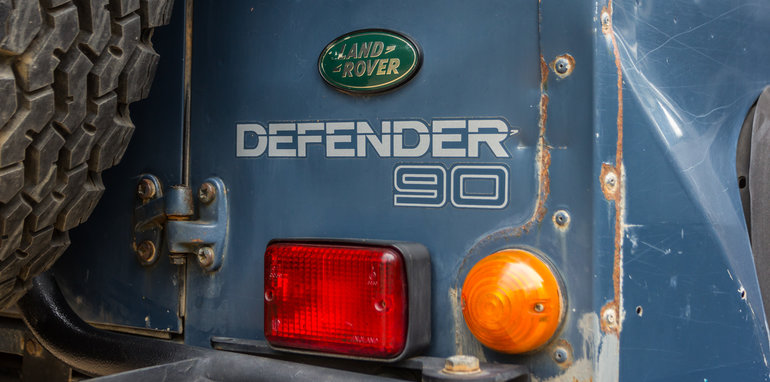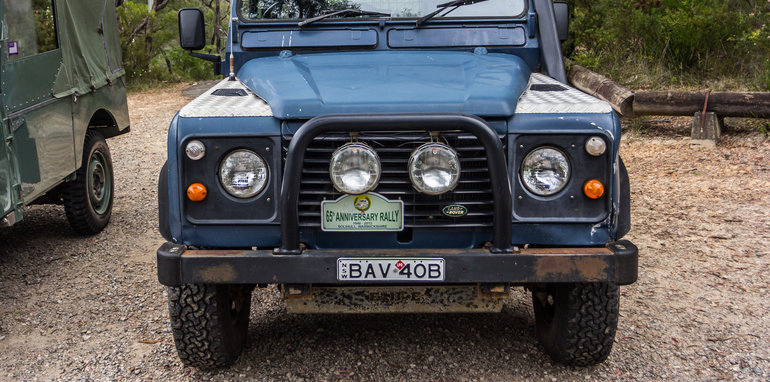 The changes between the Defender and the 90/110 models that came before it were small, although over the older Series III versions there were massive improvements.
They included coil springs, which were designed to improve axle articulation off-road and offer the occupants a better ride on road. Further, a new four-wheel-drive system (borrowed from Range Rover) with a two-speed transfer gearbox and a locking centre diff aimed at further enhancing the rough-and-tumble nature of the vehicle.
Added to that was a more modern interior, a single-piece windscreen and new engines, including the 2.5TDi fitted to the early model Defender we sourced for this test.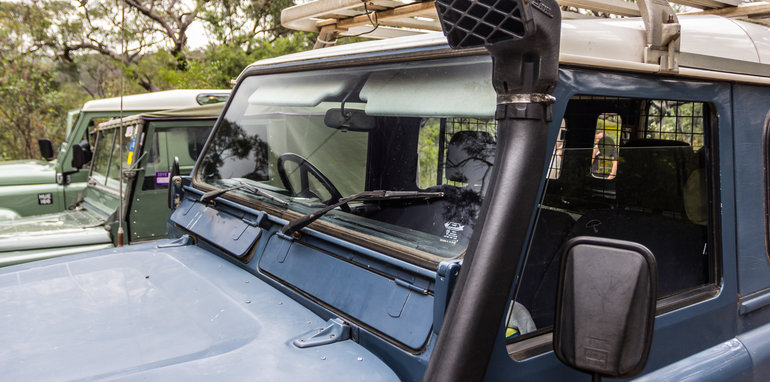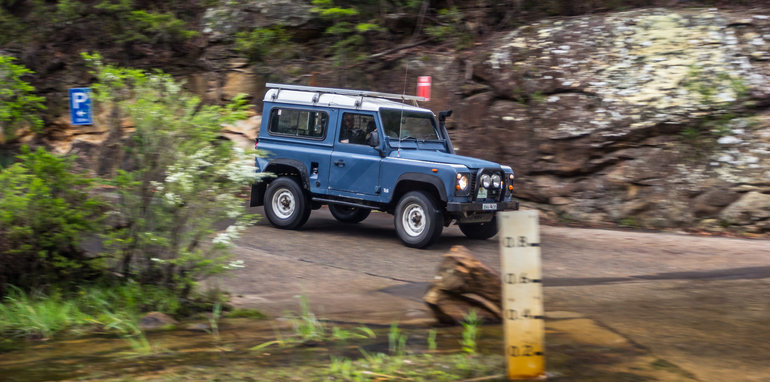 Peter Mitchell is the owner of the 1991 model Defender 90, which was imported to Australia privately through a previous owner. The car had done quite the world tour prior to that, though, having been to Africa and covering kilometres across Europe, too.
The significance of this particular car isn't that it is a globetrotter – though that does speak volumes of the popularity of the Land Rover brand, which is sold in more than 100 countries. These models were never sold in Australia, so this is a rare car in its own right.
But further to that, it's the fact that this example of the Defender 90 is believed to be one of the first ever made, and it offers up a lot to consider when comparing to the original, and the retro-inspired Heritage version.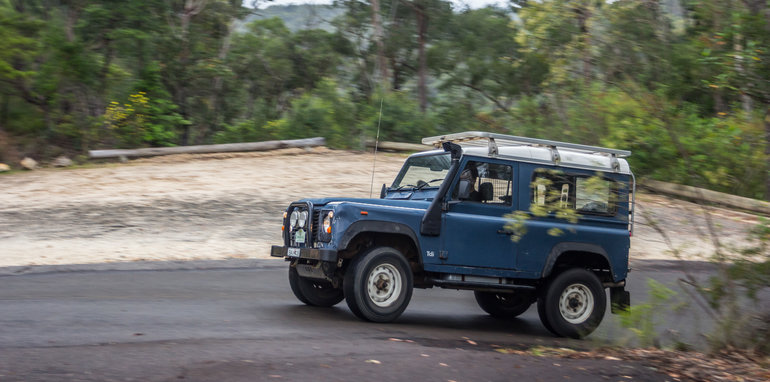 The bruised panels and rough sections of bodywork indicate clearly that this is a Land Rover that has been used for its intended purpose: by this time in the lifecycle of the Defender, there were dedicated utility models for the agricultural buyers, while the 90 and 110 were more focused on passengers than paddocks.
That's clear as soon as you jump in. There were still three seats across the cabin in this specification, and yes it is squishy with three adults on board, but the chairs themselves are comfortable and supportive, and the instruments and controls are all easy to see and use.
The drive experience is more modern, too, with that coil spring suspension – with plenty of kilometres under its belt for this particular model – offering a comfortable ride and less jarring than the older model over sharp bumps.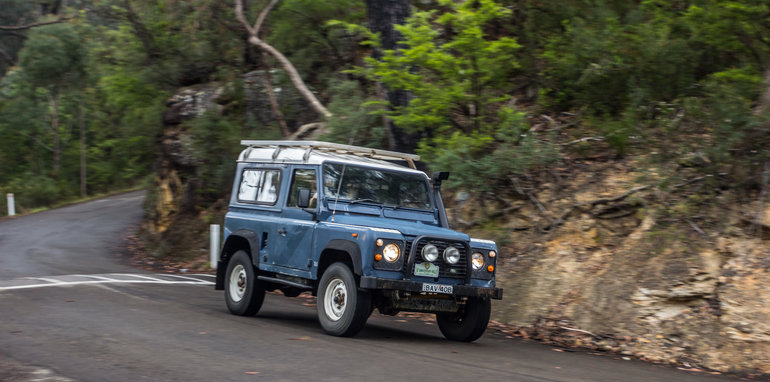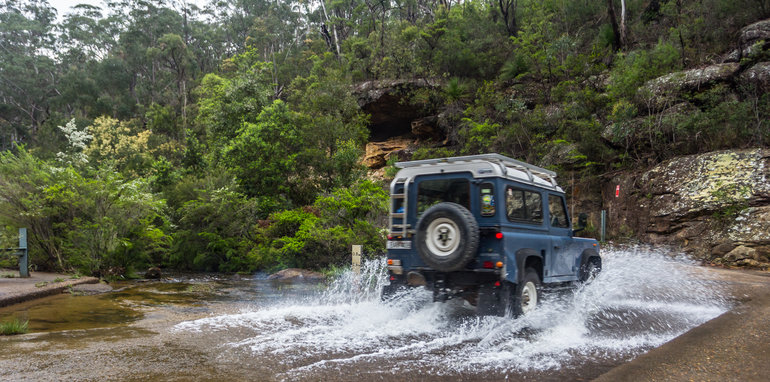 The biggest change I noticed was the power steering, which required very little effort at speed to influence the direction of the car. At low speeds it's still a bit of a tug of war, but thankfully the oversized steering wheel made for easy turning.
The diesel engine needs some revs to get it moving, as there's a fairly noticeable amount of lag down low in the range. But once it gets moving, the 2.5-litre powertrain has a wallop of torque from 2500-3500rpm. And with a fifth gear (over the older models, which had four), the Defender is more settled at higher speeds, too.
That lead us to the final car in our trio.
Land Rover Defender 90 Heritage Edition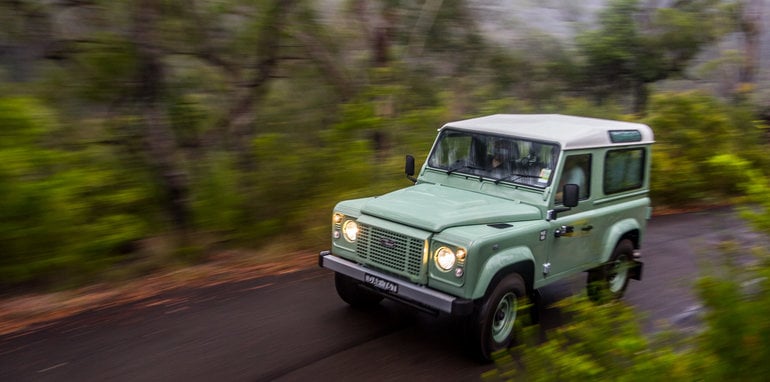 There's something awesome about the Heritage Edition, and not just the brilliant Grasmere Green paint finish (it looks solid, but it's actually a three-layer pearl).
It likely has more to do with the fact that this version, as with all current models, are still built on the same production line in Solihull, England.
This limited-run model is already sold out worldwide, with only 2564 units built to satisfy the demand of tens of thousands of enthusiasts.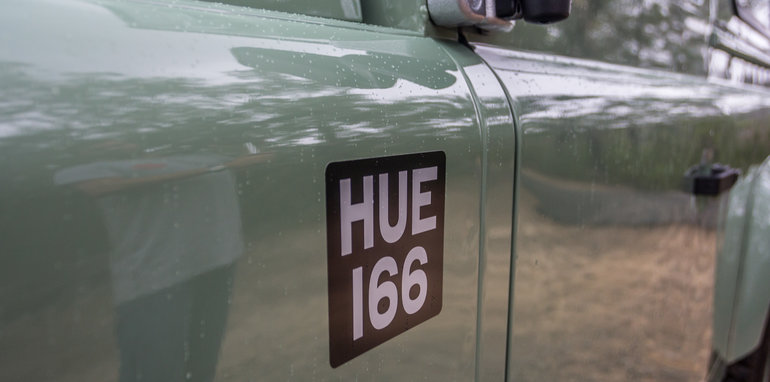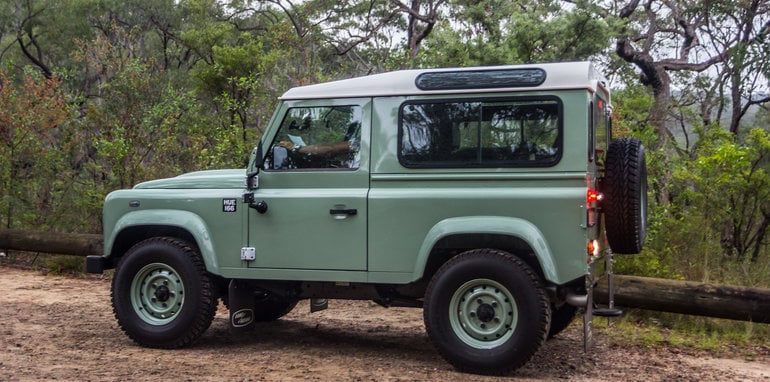 This eye-catching example is a nod to the first ever registered Land Rover, which had the plate HUE 166 and was affectionately referred to as Huey. You can see there are plenty of HUE 166 highlights on this vehicle, and they are finished a treat.
This model, though, is a long way from where the first version started off.
It builds upon the 90 model with some further visual changes, including the painted steel wheels, and the original Land Rover badges and a unique grille (in plastic, rather than metal!).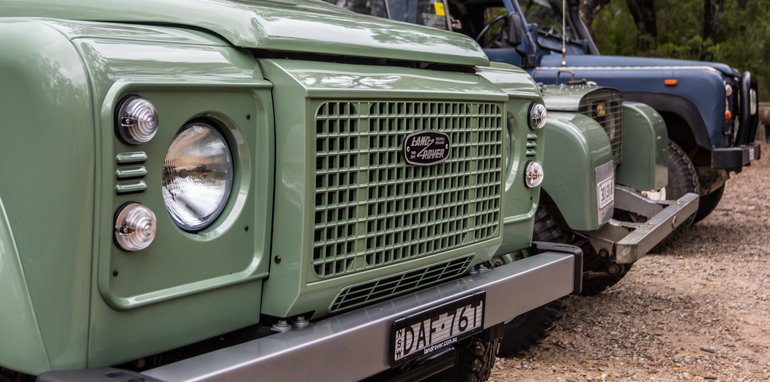 Inside, the very first Land Rover logo is embossed on the Almond cloth trimmed seats, and there are also red and yellow trims around the gearshifters and a metallic four-wheel drive plaque to help you on your way.
So it's clearly better to look at and sit inside than these other old bangers (sorry, Peter and Chris – but I'm sure you both agree!).
The question is whether it is any better to drive?
In short, it's still hard work. Getting in and out is hard, particularly if you're occupying the rear seats, as the fronts don't fold down to allow entry that way: you have to climb in through the boot, and once you're back there, you'd want to be short in stature. Anyone above about 165cm will feel cramped.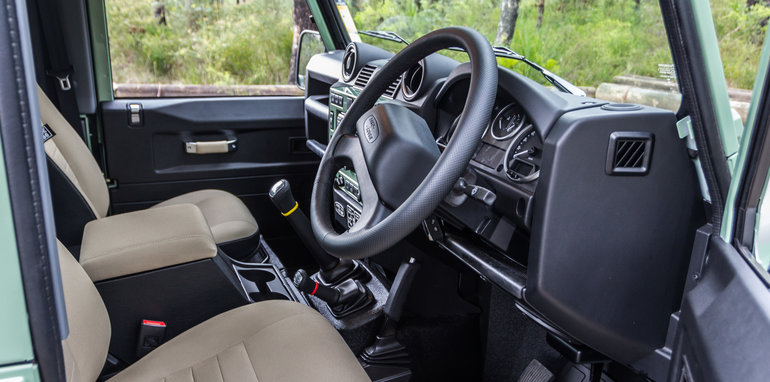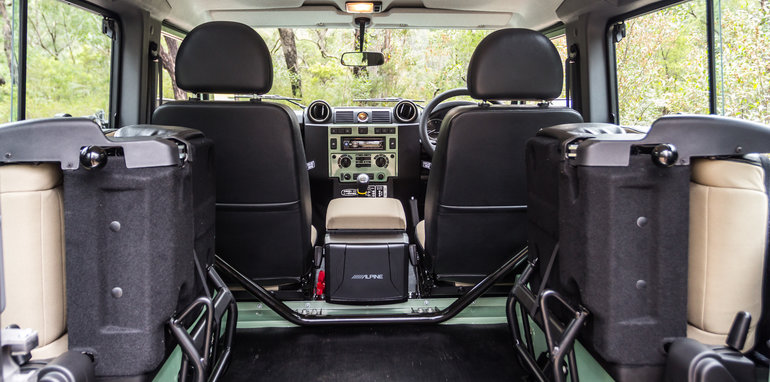 But when it comes to being in the driver's seat, it is – like the pristine Series I and the mature Defender 90 also tested here – a fulfilling experience.
There is an even more up-to-date engine – a 2.2-litre turbo diesel engine (with 90kW and 360Nm) and six-speed manual gearbox – and it retains the same serious off-road capability. But we don't want to get it dirty, with less 50 examples coming to Australia and this car already having been accounted for by a lucky Sydney buyer.
On the road, the Defender's steering is still a bit wily, and yes it bounces over bumps, and you couldn't possibly label it a capable handler through corners.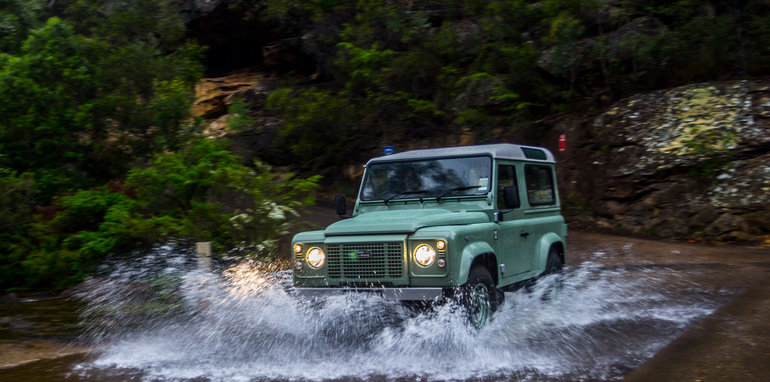 But it is a lot of fun to drive, because you feel like you're driving a piece of automotive history. And to put that 2654 units of this version in context, it works out to be less than 0.1 per cent of all Land Rover Series models and Defenders ever made.
If you're one of the fortunate few who will have the chance to put a Land Rover 90 Heritage edition in your garage, you'll be happy to know that while the times may be changing, the spirit of the hard-core Land Rover models certainly hasn't.
I'm sure that car enthusiasts far and wide, no matter whether they're part of a Land Rover club or not, are hoping that the next-generation Defender due in 2018 can stay true to that spirit.
By Matt Campbell, CarAdvice.com.au • 13/01/2016