New Mazda2 a little big marvel
Small cars aren't what they used to be. Think back a decade or so and look what was on offer - nothing patently terrible, but nothing that you'd, say, jump out of a mid-sized sedan to get into.
But the small-car buyer has changed. To grossly generalise, there used to be a perception that anything shrunk down from a "normal" hatchback was considered the domain of old ladies who quite enjoyed a game of lawn bowls, or students who barely had a couple of gold coins to throw in the tank each week.
It seems this dubious perception has crumbled as pump prices have stayed at fairly obscene levels, with the occasional spike into the purely ridiculous.
With all the other costs that go with car ownership quietly sneaking north as well, the idea of a little car has become much more attractive.
Downsizers have been heading towards the other end of the lot, and where the likes of a Mazda2 may not have held much appeal to those rational souls in the past, they're at least getting a look in.
And if Driven's early drive of the new "big little Mazda" last week in Japan is anything to go by, it's going to be more likely to make the cut for a lot of people looking to reduce costs - especially in two-car families.
Cheaper to buy, easier to park, inexpensive to run - there are compelling arguments. 
And as this new bunch of buyers aren't downsizing without taking a few bells and whistles with them, car manufacturers are seeing where the growth is and playing the game.
There are safety features and tricky infotainment systems now coming standard on small cars that wouldn't have made the option list five years ago.
The little car has grown up.
Mazda's range has been undergoing its own transformation over the past two years - its ambitious SkyActive programme, which aimed to improve efficiencies in every area of a car's performance, has come through with fantastic fuel economy and dynamics.
Visually, the flowing lines of its "Kodo" design language have added to the allure. The CX-5, Mazda6 and Mazda3 have all been given the treatment, and after seven years with little change, the Mazda2 has followed suit.
The result is a surprisingly staunch-looking machine that uses the Kodo styling to look bigger, more capable and far more refined.
From the rubber to the roof, the 2 is a whole new package, and it shows. Globally, there are three new models and a big variety of interior options and exterior styling tweaks - with a 1.3 and 1.5 petrol and a 1.5-litre diesel available.
New Zealand is likely to see one of the trio of engines - the SkyActiv petrol 1500cc, with three trim levels on offer as per other models in the Mazda range, GLX, GSX and Limited.
Mazda New Zealand managing director Andrew Clearwater says that while specification for our market is yet to be confirmed, the pricing will be close to the outgoing model.
"It's basically going to replicate the trim levels that are available in the Mazda3," he said.
"And it will undoubtedly be changing the benchmark for trim levels in that segment."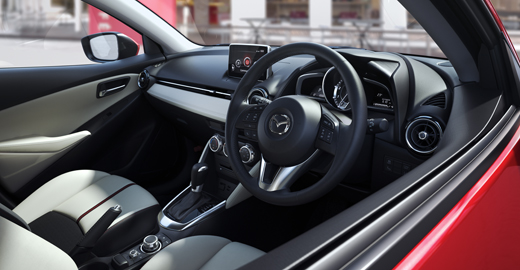 Clearwater is confident enough in the Mazda2's high level of equipment and stunning design that he's betting on doubling the sales figures for the model.
"We expect to sell about 1200 per year - which is about double where we are now."
While some Mazda2 owners haven't quite had the patience to wait out the seven-year gap between models, Clearwater told Driven that there are a number of buyers not willing to make the switch to another vehicle.
Our drive programme at the Tokachi circuit in Hokkaido, Japan, was reasonably short but certainly a solid test, battling the hideous weather that battered the island and later caused devastating landslides in Mazda's home city of Hiroshima.
Taking a small car out on a very wet circuit can be a harrowing experience, but within two laps it became obvious that the company's engineers had done a spectacular job.
The chassis is incredibly well balanced, and with the new sport mode and a flappy-paddle automatic transmission, even when aquaplaning across the track's huge puddles it didn't feel dodgy.
Turn-in is spectacular, with attacking driving made easier by a brilliant seating position.
Brakes - despite still having drums on the rear - were very responsive, with excellent pedal feel adding to an already predictable package.
We belted out numerous laps of a high-speed circuit - with Andrew Clearwater in the passenger seat for a few - revealing a Mazda2 that not only looks superb but is knocking on class-leader handling for small cars.
After taking on the best that nature had to offer, a couple of loops of a route designed to test its daily driver credibility further underlined just how capable this car is.
One real highlight of its design is the interior. Some harder materials are present on the dash, but all is forgiven for its low, flat position with central air vents hidden away - it's a clean and uncluttered cockpit that wasn't expected in a little car like the 2.
In keeping with the slick Kodo design, there's a real focus on the driver, but it successfully makes the front-seat passenger feel like they're in a car that's larger than it actually is.
Even the rear seats - despite my "athletic" physique, well rounded by years of pie abuse - provided a fair amount of leg room.
The technologically advanced MZD Connect infotainment system is fairly dominant, but the big colour screen doesn't seem overwhelming with it taking up the front-and-centre dash real estate.
A well laid out gauge cluster - complete with an afterthought tiny tacho that was near-invisible when conditions brightened - combined with the Connect screen, rounded out a very nice space to spend time in.
There aren't many cars of this size that you'd want to drive long distances in, but this would be a doddle.
With a host of advanced safety trickery on board - far in excess of most small-car offerings on the market, it's going to be a big vehicle for Mazda.
And those who have waited for the new model rather than changing into another Mazda, or even another brand, will be well rewarded with a small hauler that's punching well and truly above its weight.
Follow Driven on Facebook andTwitter for the latest motoring news.