Porsche trains track masters in new 911 GT3
Australian driving school tests your mettle with the 911 GT3
How good is the Porsche 911 GT3? Good enough to have an entire block of Australia's Porsche Sport Driving School (PSDS) based around it.
Level Four of the PSDS is entirely track-based. Also known as the Master Course, it's the penultimate stage before you progress to a full-noise GT3 Cup racing car in Level Five. It's open to anybody with programmes One through Four under their belt and A$3500 ($3700) to spend on a day at the track. A track in Australia, naturally: Queensland Raceway.
The sum sounds like a lot but for those who actually own a $275,000 911 GT3 it's money well spent in terms of learning what the car can do and benefiting from expert driving tuition, including one-to-one instruction from racing greats such as PSDS chief Tomas Mezera and five-time Porsche Carrera Cup champion Craig Baird.
There's data to digest, too. While you're out on the track there's telemetry aboard the car that's downloaded after each 10-lap session and presented on a laptop. You sit down with a race engineer and they talk you through the highlights, analysing your throttle-use, braking, cornering speed and racing lines. Then you go out and try to do better.
For those not lucky enough to own a 911 GT3, you get all of the above - plus the chance to drive one of the world's best sports cars right to the limit. Or at least right to your limits.
The GT3's place in the PSDS is indicative of its role within the 911 range. It's still a road car but it's the production 911 that also has the most affinity with the racetrack.
It's powered by a naturally aspirated 3.8-litre six that's from the same family as the powerplant used in the Boxster, Cayman and 911 Carrera, but the internal components have been designed to liberate 350kW and allow it to spin to 9000rpm. In particular, Porsche has reduced reciprocating mass by any means it can: forged crankcase, titanium conrods and forged aluminium pistons. It's a dry-sump engine to allow efficient operation under racing conditions, with a variable-volume oil pump.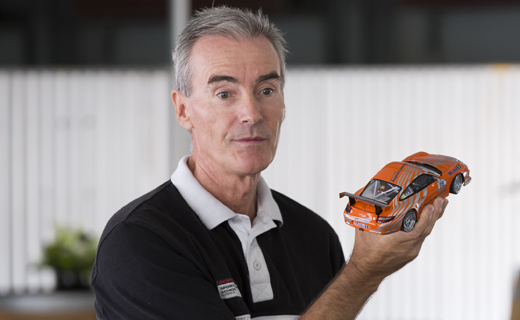 Porsche 911 GT3 enthusiasts received one-to-one instruction from racing great and Porsche Sport Driving School chief Tomas Mezera.
While the previous GT3 was only available with manual transmission, this one comes with the dual-clutch PDK transmission. True, it has two pedals - but this technology was invented by Porsche for the racetrack and the GT3 gearbox is both lighter and faster-shifting than the PDK in Carrera models. The gearing is also 9 per cent shorter and the normal drive mode has been deleted: you just get Sport (which is more aggressive than Sport in the Carrera) and Sport Plus, which is so brutal it's really reserved for the track.
The suspension has been reworked and features active rear steering, which moves the wheels up to 1.5 degrees in the opposite direction to the steering at up to 50km/h, or in the same direction at speeds over 80km/h. A similar system is in the 911 Turbo but steers at greater angles: up to 3.5 degrees.
The 20-inch wheels are forged alloy and run Michelin Pilot Sport Cup 2 tyres developed especially for the GT3. Very impressive, although the initial launch of the latest-generation 911 GT3 in late 2013 did not quite conform to Porsche's typical thoroughness and attention to detail.
In February it was revealed that two vehicles in Europe had caught fire and the factory grounded all GT3s globally - including two already in customer hands in New Zealand.
The problem was traced to a faulty piston rod screw connection that could damage the crankcase. A simple thing but it hit Porsche where it hurt: its reputation for creating high-performance machines with rock-solid reliability.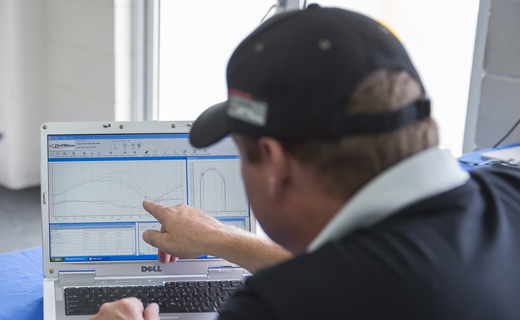 A new screw was developed and the entire GT3 engine went through a fresh programme of durability testing. Ultimately, every car on the ground was issued with a replacement engine. The old units were sent back to the factory and decommissioned. According to Porsche, none were fitted back into cars of any kind; they were either destroyed or used for training.
That's all old news now but we needed the recap because it explains why Driven was invited to Queensland Raceway for PSDS Level Four. The message is that the iconic 911 GT3 is back on track and Porsche is keen to prove it.
The cars run by PSDS are of showroom standard but fast enough to frighten the newcomer on an unfamiliar track. Master students get a theory refresher on vehicle dynamics, which in our case involved Mezera doing nifty demonstration work with a one/18th-scale die-cast 911. Then it's out on the track: first in the passenger seat with an instructor, then in the driver's seat with the instructor still beside you. After that you're on your own, save radio contact with experts who talk you through the track from pit lane.
It's hard not to go over the top. In reality the day should be about gradually improving your driving skills but that's often overridden by the excitement of being at the wheel of a GT3 and having a racetrack to yourself. So it's a mix of practised precision with segues of scaring yourself.
I can't comment on what the new GT3 is like on the road because we didn't go there. Suffice to say there would certainly be bit of compromise compared with a 911 Carrera in terms of comfort - although based on experience with the previous GT3, not as much as you'd think.
On track? It's hard to imagine another showroom-standard road car that is so at home on a circuit. The GT3 never feels out of its depth, and the combination of rear-steer and super-sticky Michelin tyres (they are completely road-legal) give the impression you're on racing rubber.
The car flatters you enough to generate serious disappointment when you return to the pits and compare your laps with those set earlier by the instructor for reference. So you set out again determined to be more learned and less leery. For a while.
I was lucky enough to cover many, many kilometres on both road and track in the previous 911 GT3 and it was one of my favourite performance cars. It's hard to believe this new 911 GT3 is so much quicker and more accomplished. So if I've seemed effusive so far, it's because I haven't wanted to seem Stuttgart-struck. But what a car.
The $275,000 price is not a huge premium over the $247,000 Carrera 4S when you consider how much development work has gone into creating the perfect road-and-track package in the GT3.
At the end of the day I took 5.2 seconds off my lap time, which is an eternity in motoring racing. I was also still 3.6sec off the reference lap, which is still pretty close to eternity.
But I now have a certificate that says "Porsche Sport Driving School Master Level". I'm pretty sure you get one of those just for showing up, but you don't need to know that.