Queenstown: A vroom with a view
Amid stunning Queenstown scenery, Winston Aldworth experiences a very fast, very yellow mid-life crisis.
The five-oh are right on my six. (Translation: There is a police car driving immediately behind me.)
It's probably for the best that they weren't behind me 40 minutes ago, when I briefly under-estimated the acceleration of the Lamborghini I was driving.
Before our driving trip began back at FreemanX Supercars headquarters just outside Queenstown, we received a clear warning.
"If you get a speeding ticket, you're paying it - not us," said Ian Loan, our guide for the day. He leaned in closely to emphasise a final point.
"Whatever you do," Ian looked at us gravely, "don't go over 140km."
If the speedo on the Ferrari 430 Spider or the Lamborghini Murcielago goes past 140kmh, Ian would receive a text message. And, he added, the cars can be impounded.
We drive in convoy from Queenstown down to Kingston, along the Devil's Staircase, the stretch of SH6 that tracks Lake Wakatipu's gorgeous bends.
My girlfriend Louise and I had the 490hp, V8 Ferrari; Ian was with another customer in the frankly outrageous 580hp, V12 Lamborghini. Painted - as if it wasn't already attracting enough attention - screaming bright yellow.
Both are high performance, but the Lambo is the alpha dog.
"The Lamborghini is a real car and a real drive," said Ian.
"It's really loud and really gnarly. And you really have to drive it.
"I consider the Lamborghini to be a toy."
Maybe it's more of a guy thing. Louise takes the wheel and misses the point.
"This would be really uncomfortable to do a long journey in," she said.
"Whatever you do, don't go through a mid-life crisis and make me suffer through one of these cars."
And that's what you're buying with this lightning dash from Queenstown to Kingston: a temporary mid-life crisis; a letting-off of steam to avoid arriving home one day with a brand new Harley.
We swap cars in Kingston, driving back to Queenstown in the Lamborghini. (I think Ian may have got a text message at this point.)
"It's not very child-friendly," Louise says of the two-seater that goes from 0-200km p/h in 10 seconds. It takes a freefalling skydiver 12 seconds to hit that speed.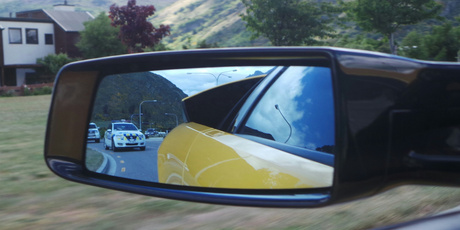 A police car follows the Lamborghini. Photo / Louise Taylor
It's a contrary vehicle. The seat belts are the "wrong" way around, starting from your inside shoulder and clipping at your outside hip. But you don't drive this thing to conform.
We finished our tour with a nosey around the streets of Queenstown, edging the car around the tight streets.
"This is awesome," I said, lowering the windows and turning up the volume on the stereo. Basically, becoming an utter douchebag.
"I am so embarrassed," said Lou.
It's a guy thing.
CHECKLIST
Getting there: Jetstar flies daily to Queenstown
Further information: See freemanxsupercars.co.nz.
LOOKING FOR ADVENTURE?
Stuck with the stag do planning responsibilities? Or just fancy dabbling with disaster? Here are a few more highlights for a blokes' weekend in Queenstown.
The first commercial bungy site in the world turned 25 this year, and simply demands a place on the must-do list for any adventurous Kiwi. If you've already done the 43m Kawarau Bridge, have a crack at the Nevis Bungy, which at 134m is the highest in New Zealand. You can do any three AJ Hackett jumps for $450 or go for a bungy and tandem skydive combo deal, with prices starting at $529.
On a day trip to beautiful Mt Aspiring National Park, take the fast track down the Bridal Stream. The Routeburn Canyoning crew slide, jump, abseil and zip line down following natural waterways to base.
Get wet on the legendary Shotover River, a Grade 3-5 stretch of water running through Skippers Canyon. The trip starts peacefully, but finishes on the lower canyon's exciting rapids as you paddle through areas with promising names like Rock Garden, Sharks Fin, Toilet, Pinball and Jaws. This will set you back $199.
Head to Arrowtown to get your mitts on a Beretta 12 gauge shotgun. Break One's Clay Target Challenge costs $155.
Winston Aldworth travelled as a guest of Destination Queenstown and Jetstar.
By Winston Aldworth • 10/12/2013
Tags