This environmentally friendly SUV is a step in the right direction, writes Jamie Merrill
Eight years ago, Greenpeace activists broke into Land Rover's plant in Solihull, England, in protest at what they called "climate-wrecking" emissions from the Range Rover.
The Indian-owned carmaker has responded with the Range Rover Hybrid. The bogey man of the environmental lobby has gone green, installed a battery and taken notice of its emissions.
Today, Greenpeace has bigger fish to fry, but the organisation's chief scientist Dr Doug Parr told me that it's good to see some progress, "even when the EU process to obtain car efficiency laws, which has been derailed by car industry lobbying and corruption, is failing to deliver".
Putting politics aside, the Range Rover Hybrid is a small step in the right direction.
Powered by a 3-litre V6 turbo diesel engine with an electric motor, the technology isn't revolutionary and although emissions are cut down to the level of a large family car, the fuel economy - on my test run at least - is still fairly woeful.
That's not something Range Rover buyers really care about, I sense, though.
Equally, I'm not sure the tax benefits of owning a hybrid are a game-changer for buyers of a £100k ($198k) luxury SUV, especially when there's a £20k premium over the standard model.
It does have acres of leather and all the standard Range Rover luxury, though. The firm says it's still a Range Rover first and foremost, and to prove this, it drove one the entire route of the ancient Silk Road from Europe to India. My own test constituted an off-roading circuit closer to home, some serious mud and some light wading.
But as soon as the expensively chiselled front end plunged into the water, all hell broke loose and the dashboard lit up. It pinged and ponged away with red and orange warning lights, saying things such as "Hybrid failure" and "Adaptive Damping System Warning". The air conditioning also cut out. Land Rover went quiet when I mentioned this.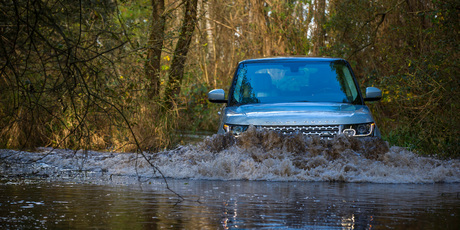 The Range Rover Hybrid proved during a press drive that it couldn't cope with water.
It made my exit rather tricky and only fixed itself when I restarted the engine on dry land.
This may be the greenest Range Rover.
But unless you have £100k to spare, only care about looking green rather than really saving the planet and don't want to take it anywhere wet or muddy, I'm not sure it's the car for you.
By Jamie Merrill • 17/12/2013