Refreshed Volkswagen Polo has looks with extra pep
Volkswagen's little hatch has been given a facelift ready to take on runaway leader the Suzuki Swift
For three years it was an important part of our lives: school run duty; supermarket sprints; days at a time left at car company headquarters around Auckland or parked on side roads by car dealerships while it was upstaged by brand new cars I was testing.
But after those years of being a steady influence as my family's part-time transportation, my dark-blue 1999 Volkswagen Polo was written off by a drunk driver when it was parked on a side street by my house.
I had bought the second-hand European runabout because I wanted to treat myself to a small car with electric windows, airbags and a stylish appearance as opposed to my previous Japanese imports.
So I approached the recent New Zealand launch of the 2015 Polo with a slight bias.
The latest Polo is more of a "re-engineered" facelift than all-new model, with VW Group in Germany set to launch in 2016 a version of the small hatchback based on the shared MQB architecture.
But the "re-engineering" is obvious - the small hatchback is now powered by a 1.2-litre turbo petrol engine that has increased torque by 19 per cent over the 1.4-litre engine, providing 160Nm over 130Nm.
It also brings an increase in fuel economy of 4.7-litres/100km as opposed to the 5.8l/100km of the 1.4-litre.
The five-star safety rated car is priced from $22,900 for the five-speed Comfortline manual plus $3000 more for the auto version, while the top-specced Highline is $27,990 and gains 16in alloys over the base models' 15in.
Volkswagen NZ has also added the Cross Polo ($29,990) to the lineup, with the 1.2-litre auto producing 81kW of power and sitting 15mm longer and 35mm higher than the Polo hatch and on 17in alloy tyres.
It's aimed at buyers looking for more of a compact SUV sitting position.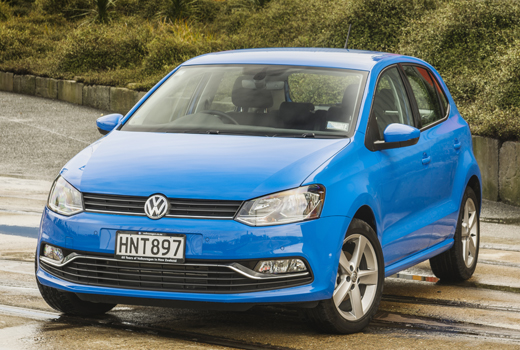 The Polo hatch itself is in competition with the segment-leading Suzuki Swift, which has double the sales figures over the likes of Kia's Rio, and the all-new Toyota Yaris and Honda Jazz.
In the looks department, the Polo dominates against its competition.
It gains the all-new VW Golf's squared front and rear plus my favourite u-shaped lights that give it a sophisticated presence.
It has less interior space and boot room than the Golf but in the looks department it's more of a slightly smaller fraternal twin than complete lookalike.
Inside, the Polo gains the Golf's new infotainment system plus chrome accents and a leather oval multifunction steering wheel.
Volkswagen NZ general manager Tom Ruddenklau is targeting the Swift for market share, and focusing on private and corporate sales rather than rental and fleet that is dominated by the Rio and Yaris.
Ruddenklau says 65 per cent of Polo sales are private and expects total sales of 1000 a year.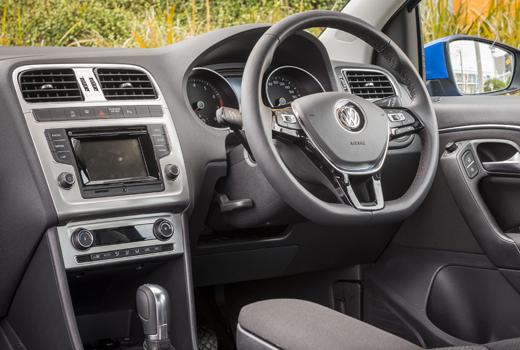 He also wants to change public perception that owning a new European car is expensive and servicing costs are a barrier.
So Ruddenklau is launching a new servicing plan early next year to counter that perception and help catch the Swift.
"It will take four to five years to get close to the Swift with sales," he said.
Straight after the New Zealand launch I had the Highline auto for a week-long test.
With its fuel-efficient, perky 1.2-litre engine, the Polo is nimble about town and hoofs it with the big guns on the motorway.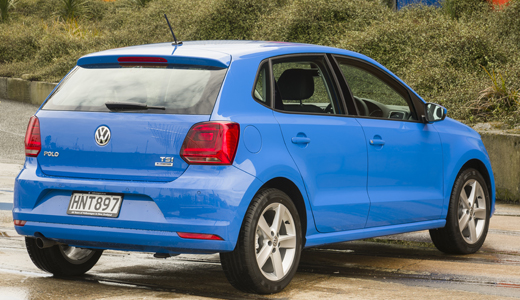 Through the DSG transmission it moves quickly to the optimum gear for the driving situation, so if you hit stop-start city traffic it sits ready in the lower gears to provide you with that oomph when you take off.
On the motorway it hit top gear and easily sat at 100km/h with energy to move.
It seats four adults but it would be a squeeze for three adults (or older teens) in the back seat.
While the Swift remains a public favourite, the competition is catching up.
Follow Driven on Facebook and Twitter for the latest road tests and motoring news.
Keep up to date with Driven
Sign up now to receive DRIVEN news, reviews and our favourite cars for sale straight to your inbox.