Toyota TR86: It's all about the driver
Toyota's 86 racing car unleashes the beast in our test driver
Toyota New Zealand invited a bunch of people to Manawatu last week to pick up their new cars. Nothing unusual in that: this team probably does five fleet deals before breakfast on a good day.
However, these cars were a little bit special. The Manfeild circuit in Feilding was the venue for the first official test day of the Toyota Finance 86 Championship, a new one-make series masterminded by Toyota Racing.
Interested? A cheque for $78,000 buys you a Toyota 86-based racing car called the TR 86, developed and prepared for competition at Toyota Racing's Mt Wellington headquarters. That's your ticket into the seven-race series, but you also acquire a rear-drive rocket that can be used for further events such as Targa, hillclimbs and possibly rallying.
The Manfeild handover day was the first time teams had driven their TR 86s in anger. Now there's much to do, with the first race scheduled for Highlands Park in Cromwell on November 9.
From there the series will visit Pukekohe, Hampton Downs, Manfeild and Taupo over the summer, before returning to Hampton Downs and a final endurance race at Pukekohe on May 17-18, 2014.
Eight teams are confirmed (and so eight cars sold), but one of the purposes of the test day was to give prospective buyers a closer look.
"Twenty cars was always the number," says Toyota Racing category manager Barrie Thomlinson. Which is another way of saying the division has committed to build 20 cars.
"Ultimately, we just want a good field," says Thomlinson.
"We have always believed that if we build the cars, the people will come. We're confident we'll have a good grid together by the time we get to Highlands Park."
This is a true turnkey series. Only Toyota Racing's cars are eligible and they are tightly controlled.
Consider Thomlinson's dictum for TR 86 modification during the Manfeild briefing: "Check the manual and if it doesn't say you can - you can't."
Toyota Racing will be at each round for scrutineering, technical advice, parts, hospitality and media. A one-hour package of each round will be shown on Sky Sport and Prime.
So how does the TR 86 perform? To be honest, you'd have to ask a racing driver.
Whenever I'm lucky enough to drive a well-sorted vehicle on a circuit - as I did with the TR 86 - I feel performance is hampered by a lot of extra weight in the car and clown shoes on my feet. Both concerns have some substance.
I was allowed to warm up with a few laps in a road-standard 86 RC while the proper drivers were having lunch. This was not only a fine illustration of how brilliant the 86 is on-track in any form, but also a useful control for my looming TR 86 experiment.
It may have a powertrain quite close to the standard 86, but the TR 86 feels every inch a racer as you clamber through the six-point roll cage. Very little of the original car's interior remains: for the novice, the feature that brings about the nerdiest delight is surely the full-colour, fully integrated Motec digital dashboard, which replaces the standard car's instrument panel and offers all manner of race data.
All of which is a mystery to me. But there are purple lights when you over-rev. Lots of purple lights.
The TR 86 does not feel a whole lot faster than the standard car in a straight line. TR has modified the engine's Electronic Control Unit, intake manifold and exhaust; it won't quote output figures at this stage, but they're pretty close to the standard car.
However, the racing machine's slick tyres, modified suspension and racing brake package thrust it into entirely another league in the corners.
"As a road car, the 86 is still fantastic on a circuit," explains Thomlinson. "What we have done [with the TR 86] is enhance that performance: very high mid-corner speed, very good braking ability."
Well, I thought the TR 86 was in entirely another league until I finished the day in the passenger seat, for a TR-Thomlinson hot lap. That's when I discovered there's another league beyond that. The man knows the circuit and he definitely knows the car - I could not believe how much grip the TR 86 had on that slick rubber, or how late you could brake into corners. Sensational, although it's lucky I saved my passenger experience until last. Starting out with Thomlinson could have resulted in an unfortunate attempt at emulation.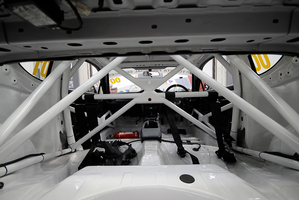 The TR86 stripped out interior
There's a point here: it's all about the driver. The TR 86 teams are allowed to do very little to these cars: the suspension and anti-roll bars are adjustable but within strict parameters. There's even a 1000km cap on testing prior to the first round at Highlands Park.
"There's a bit you can do to the car, but this is a drivers' series," says Thomlinson. "The focus is 100 per cent on developing the drivers. It's not an engineering formula."
That's what will guarantee some sensationally close racing.
That and the meticulous preparation of the cars.
It's easy to accept Thomlinson's assertion that TR's work with these machines is "immaculate, just like it's come out of the factory".
The roll-cage alone is a work of art, taking 60 hours to install.
So to Toyota, a sincere thank you for my time in the TR 86. Just to drive it would have been one of the highlights of my motoring year, but having the Manfeild circuit all to myself in the thing was wonderful beyond words.
To the Toyota Finance 86 Championship teams also there on the day, all I can say is that you should count yourselves lucky I wasn't out there during your track time.
Because it's all about the driver and I would really have been in the way.