VW's Golf R a very potent hatch
The big European players are making serious moves into the hot hatch market
Not content with stuffing their ranges with more models than you can poke the proverbial stick at, the German powerhouses are turning the hot hatch battleground into a fully-fledged war.
Volkswagen is the latest to fire a serious salvo in its bid to outgun the opposition - BMW, Mercedes-Benz and even its own stablemate, Audi.
In fact, the S3 you saw on the cover of last week's Driven is, underneath the badge, very similar to the four-ringed firebrand that was featured - except that's only available in "sportback" or wagon form.
Is this a sign of the two trying to play nice? Quite possibly, but given that they're both going to be butting heads on price tag in this market, it's potentially going to cost one of the two sales.
This is, of course, fairly redundant as they're both sold by the same distributor in New Zealand.
Either way, you've got to take the R on its merits in comparison to the GTI, and to the freshly-arrived GTI Performance variant - and when the flag drops for the spec sheet drag race those two are going to be staring up four chromed-up exhaust pipes.
Since the Golf Mk7 was released last year, complete with far sharper pricing and a host of upgrades that saw it take out Driven's 2013 Car of the Year award, Volkswagen has been on a bit of a roll.
National sales manager Rodney Gillard says the last year has seen a marked increase in buyers new to the brand.
"My sales managers are telling me almost every day about putting people into VWs who have never owned a European car before and trading brands that we've never traded - it's a very good sign."
Gillard is also pretty happy to have the Golf R and performance edition on the road next month, and reckons the R's combination of refinement and performance makes it a perfect combo for the GTI purists.
The R isn't just a tweak here and there - it's running a very capable Haldex 4WD system while the GTI is a front spinner, which means the former has a massive advantage not only off the line but in the curly stuff as well.
Both have torque vectoring systems provided by brakes, but as expected, the four-wheel drive version puts this into practice more effectively, so actually getting this angry little hatchback to push beyond mechanical grip becomes a game of chicken that's generally won by the car.
Built on the Volkswagen group's light new MQB platform, the R doesn't give away anything in terms of weight to the GTI, in fact it tips the scales at over 100kg more, a shade under 1500kg.
But it does sit a bit lower on the road, and the 221kW/380Nm output of the turbocharged two litre, gives it an incendiary performance that is incredibly balanced, especially when it's fitted with the $2000 dynamic chassis control fitting, which allows adjustment to suspension and demeanour through the in-dash infotainment system.
Even that on this test car had been upgraded with the Discover Pro Navigation version that comes with gesture-based touchscreen controls and 64GB of storage, a $2750 option box that took the lapiz blue version driven here to $78,740 along with a couple of other goodies, like the huge 19-inch rims.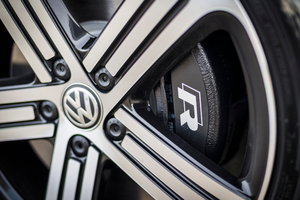 It's a highly-specced machine in stock guise anyway, and without the extra goodies comes in at $70,990 for the model with the six-speed DSG robotic manual and $68,500 for the manual - which will only be available through special order.
Keeping a car with such a big serve of turbo within the European bounds of emissions and consumption can't have been an easy task, but the R meets the Euro6 standard, keeping trees and bunny rabbits happy, with CO2 output at an exceptional 159g/per kilometre and combined cycle consumption at only 6.9L/100km, although those with a heavy right foot are more likely to see numbers in the 12L/100km range.
But if you're willing to accept higher consumption, you do get the added benefit of a 5.1 second sprint to the legal limit and an electronically limited top speed of 250km/h.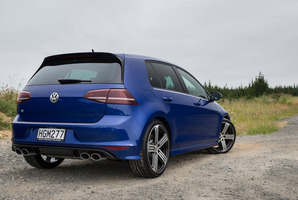 It is an animal when driven in anger - quite necessary when you consider its main competitors are the S3, Mercedes' utterly bonkers AMG A45 and BMW's screaming little M135i - but around town it's as tame as can be thanks to the versatile nature of the DSG (improved vastly in recent years) and the ability to flick between driving modes.
Is it worth the extra lolly over the already excellent GTI?
I'd say definitely - it's roomy enough to cover most people's needs, and with a Jekyll and Hyde-spec personality disorder it's polite enough to be a daily driver and punchy enough to take out for country road fun runs and even the odd track day.
Keep up to date with Driven
Sign up now to receive DRIVEN news, reviews and our favourite cars for sale straight to your inbox.