Kiwis rush for really good Sport
Luxury and performance give new Range Rover instant appeal
Costing $170,000, the supercharged V8 petrol-powered model is the flagship of the new Range Rover Sport range.
The distributor of the Range Rover Sport couldn't have asked for a better start to its launch in New Zealand this week - 100 of the luxury SUVs were pre-sold to Kiwis before they even entered the showrooms.
The Sport is expected to be such a hit for Land Rover New Zealand that the company has forecast it will sell 300 a year.
The new Sport is 149mm shorter, 55mm lower and 33 per cent lighter than the previous model, weighing in at between 2115 and 2310kg.
It comes with several power units, including three diesel variants.
The entry-level diesel is the 3-litre TDV6 SE (giving 190kW/600Nm) and with combined fuel economy of 8.3l/100km.
It is priced at $125,000.
The next step up is the 3-litre SDV6 HSE diesel (215kW/600Nm and 8.7l/100km), which has more specifications and is tagged at $140,000.
The final diesel is the 4.4 litre SDV8 HSE with 250kW and a hefty 700Nm of torque, costing $155,000.
The flagship of the line-up is the Range Rover Sport supercharged V8 petrol-powered model, priced at $170,000.
The 5-litre engine sends 375kW and 625Nm of torque to all four wheels, sending it from a standing start to to 100km/h in 5.3 seconds.
New 22-inch split spoke alloy wheels are an optional extra for this model.
An extra $15,000 will give you the Autobiography pack on the SDV6 and Supercharged V8, costing $155,000 and $185,000 respectively.
Aside from Autobiography emblems, SDV6 buyers get the addition of heated and cooled front seats, aluminum treadplates, wood trim and a Meridian 825W 3D sound system with 23 speakers.
Supercharged V8 buyers get that and more, with massage seats, three-zone climate control, and rear seat entertainment screens as an optional extra.
But although it is selling hybrid power trains overseas, Land Rover New Zealand has no plans to add this technology to the line-up.
Each version comes with Land Rover's Terrain Response system, which can be set up for gravel, dirt, sand, snow and almost any other surface.
The options can be selected manually or the system can be used in full auto, leaving the Sport's new torque vectoring and four-wheel-drive system to do the rest. It is also able to wade through 81.5cm of water, which means you will never have that sinking feeling.
The Sport has 784 litres of load space, and Land Rover will also have a five-plus-two seating arrangement available in some models from January next year.
On the road, the V6 diesel serves up a lot of luxurious frugality and there is a real sense of occasion when you drive it.
Crisp turn-in and seamless changes from the sweet eight-speed auto box are rather good.
With the supercharged V8, it's easy to see why the Sport set the fastest time for a production vehicle - 12 minutes and 35 seconds - at the famous US Pikes Peak hillclimb.
Plant boot and you are thrown back in the seat, riding a wave of power and torque.
All 375kW come into play all at once and, despite the Meridian sound system, the primeval thunder of that supercharged V8 is the best soundtrack.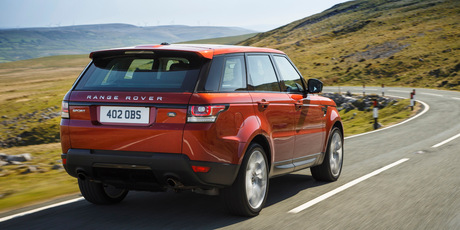 The Range Rover Sport supercharged V8 petrol.

After our first local drive, it was easy to see why New Zealand buyers are so keen on the all-new Range Rover Sport.
Keep up to date with Driven
Sign up now to receive DRIVEN news, reviews and our favourite cars for sale straight to your inbox.