Little bull sets off on its final charge
Lamborghini has ended production of the Gallardo after 10 brilliant years - so we went for a skid down memory lane
Ten years after the "little" Lambo rolled on to the world stage at the Geneva Motor Show, the V10-powered Gallardo has finished production, with a replacement rumoured to be called Cabrera, likely at the same show in March next year.
When it was first announced, the Gallardo - named for a famous breed of fighting bull - surprised many in the automotive world. It was a Lamborghini, it didn't have a V12, it was still a genuine super car and there were still V12s being churned out.
But with a string of special models, a little less girth than the large and lunatic Aventador - and a dash less "look at me"-- the Gallardo quickly won fans. Four-wheel- drive with excellent grip, a soundtrack that couldn't fail to put a grin on the face and small enough to chuck around the wiggly stuff without terrifying yourself too much. It was being produced en-masse for a company that was used to pushing out relatively low volume, around 2000 a year. The last car to roll off the production line was an LP 570-4 Spyder Performante in Rosso Mars, a shade of red that can be seen from space.
The car, which has been sold to a private collector, is badged No 14022 - meaning Gallardo has nearly made up for half of the Lamborghinis sold worldwide since 1963.
It's hard not to love a Lambo. Sure, they're brash, loud, completely over the top and there's a feeling that you should be wearing a gold medallion atop a hairy chest to truly fit the mould.
Some of the most revered cars of all time have worn that raging bull badge - deservedly in some cases, purely on the strength of its unbelievably aggressive looks in others.
Countach is the prime example. It may have been the poster on every kid's wall, but driving it was one of the most stressful experiences you could have behind the wheel. No vision, excessive heat, every eye in the world on you as you tried to navigate around town. Not an ideal machine, but an iconic one.
Building super cars is a tough gig in this day and age. Most are diversifying into the few growth areas of the automotive industry to keep heads above water.
And with a Lamborghini SUV on the horizon and the Gallardo replacement on the way, things are looking good for the Volkswagen Group-owned "boutique" manufacturer.
Related Cars
Auckland | Eden Terrace
$4,840.04 p/w $19,360.15 p/m
$599,995
Over its lifespan more special Gallardo models were put out than any of its other vehicles, and even a few cop cars were produced. Most of us have seen the blue-and-white Polizia Stradale versions used in Italy, but London's Metropolitan Police also used a couple.
These were more for publicity purposes than outright pursuit, as anyone who has driven in London can appreciate that a 300km/h car isn't needed when traffic is moving at 5km/h.
But probably the most significant move by Lamborghini was when it second-guessed its own plan, all-wheel drive. Test driver Valentino Balboni wanted the company to build a rear-drive version, which naturally shed some weight, and fitted a 403kW V10 with a recalibrated E-Gear transmission and new differential. The LP 550-2 Balboni special edition was limited to 250 units, but the reaction to the car's performance, character and the exhilarating drive experience that it offered was extremely positive.
With only rear drive the Gallardo is a handful and requires a bit of bravery, but it's a hugely rewarding vehicle when you get it right. So we grabbed the current model LP 550-2 from Auckland's Lamborghini distributor and went for a drive in memory of a great car. It just seemed like the right thing to do.
There was another limited edition on the showroom floor, which we decided was a bit too rare for our liking. It's the Gallardo LP 560-2 50th Anniversario Edition made for this year's milestone and one of the rarest bits of exotic fruit in the Lambo vege bin.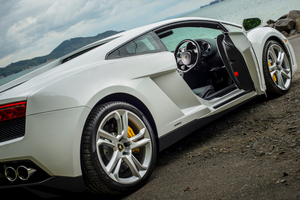 The Gallardo will hit 100km/h in just 3.9 seconds. Pictures / Ted Baghurst
There's only 100 in existence and a tiny handful of right-hand-drive models. With a bit of extra power and special lightweight seats and wheel, a fixed carbon rear wing and badging to underline just how exclusive it is, not to mention its $385,000 price tag, it stayed at Independent Prestige and we took out the "ordinary" LP 550-2.
"The Anniversary edition 2014 LP 560-2 is perhaps the ultimate rear-drive Gallardo," says Greg Brinck of Independent Prestige. "It will carry the history of the model forever, and will suit someone who really wants to buy a special Lamborghini. That's why there were only 100 built - so it is an extremely collectable model, and the extras on it are essentially free, as it's the same price.
"We're certainly going to miss the Gallardo," he admits. "'It's still a fantastic car. Gallardo came along at just the right time and made the brand more accessible without diluting what it means to be a Lamborghini owner. They're fast and beautiful while being great fun to drive without being hard work around town. Then the rear-wheel-drive versions take it to a whole new level for those driving enthusiasts who really like to get involved."
And he's right. The two-wheel-drives are something else to drive. Balboni's ambition to build a car that rivalled the Ferrari offerings at the time certainly paid off.
Like any mid-engined machine with rear drive there are moments when brain has to outdo instinct. If the back comes out, you've just got to take a deep breath, put the pedal down and get it back in a straight line otherwise physics dictates that you'll get taken for a ride.
It's not 50-50 balance, with a slight heft advantage at the back, for obvious reasons, but even on some of the bumpier roads with myriad surface changes and the odd pothole the steering still felt far more positive than the earlier models, which could be quite skippy in the front end, even on the four-footed models.
But it's when the road clears ahead of you and there's a chance to flick the car into Corse mode that things truly come together. It's quite happy on tight stuff with a quick rack and the flappy paddle E-Gear six-speed lets you keep both hands firmly on the wheel, but big, wide corners tackled at pace (no more than 4km/h over the limit, of course) get a nice rhythm going.
The dry-sumped 5.2-litre V10 - as per the Audi R8 V10 - on full noise sounds every bit as menacing as its 405kW/540Nm specs promise.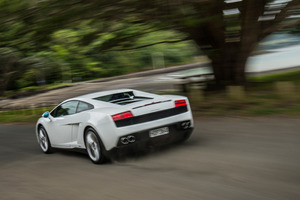 The Gallardo will hit 100km/h in just 3.9 seconds. Pictures / Ted Baghurst
Any engine like this that's bouncing around the 8000rpm mark is impressive, with the 295/35/19 Pirelli P-Zeros affording massive grip as they push what is still a fairly small car out of corners without too much twitchiness. That is, until enthusiasm outweighs reality and then rather than scrambling at the wheel and mentally adding up a potential repair bill, a quick flick of the wheel and with a bit of help from the ESP, it's on to the next one.
It'll hit 100km/h in just 3.9 seconds, and has launch control if you really want to make sure, keep the foot down and it'll continue to 320km/h.
Part of the secret is weight - dry, this is a 1380kg car thanks to an aluminium space frame, body and a few bits of thermoplastic to create those vents and angles. It's a stunning-looking car, and the idyllic scene of the traffic disappearing through the rearview mirror (often peering around the automatically actuated rear wing) is a picture that we rather enjoyed and will miss.
But it's going to be interesting to see just how a super car specialist replaces the car that has made up nearly half of its volume over five decades.
The teasers are starting to appear now, spy shots have been sighted and there'll be news in the coming couple of months. One thing is certain, the Gallardo is going to be a hard act to follow.